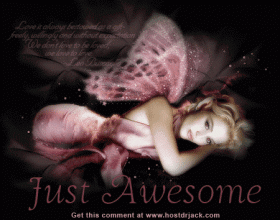 Jessalyn, You would't believe the difference & changes that have took over Our Lives,Family & Home since You were taken away from Us. I still watch for You to come walking in the back door @ night, or Maybe, I will answer the Telephone & I can hear You say," I'm okay,Mama, I'm on My way Home." I miss Your Friendship & the sweet fact of knowing that You always had My Back & You were always there for Waylon & prepared to go to battle in defense & honor. I know He can't talk, But, You wouldn't believe the Hurt that He has had to endure the last few years. This past Year & the things that have taken place and the support he used to be blessed with has left Him wondering where His Family is & Why dosen't anyone want to spend time with Him anymore? God Forbid, Anyone ask Waylon to go somewhere with them, He just might embarrass them, or scare their Children.
Since You've been gone, Everything & Everyone has changed, not for the better, like You would think after losing such a Young & Loving Person in their lives in such an unexpected & detrimental way. I mean Hearts have hardened, compassion was here for a little while & then it faded away too. My tears are the last thing I see each night now, along with the sounds of Whimpers & Prayers cried out in anger & confusion to the Lord, As I plead for whats left of Our Family to endure the pain and wish for the closeness and concern for each other to enter back into Our lives. Nobody cares who gets hurt anymore, how many tears get wept, or How hurtful the words that flow from their selfish sin-fed mouths are to others anymore.
Matter of fact, I've learned about heartache & loneliness the last few years, and if I'm experiencing this, Waylon has to step every step with Me, & I would have thought that, We had been through so much & He's had to see so much sin,loss & illness as well as hearing the jeers & Titles, such as "Retarded" & the gawking stares from strangers as well as Family & Friends that Our lives could stand a little Blessing & Comfort for the rest of what little time we have left.
Jessalyn, I am so sorry that You had to suffer the things You did & witness the selfishness & immaturity as You grew into an Adult, You were made to grow-up & be wiser than your years because of the mistakes I made & the Time I spent focusing on providing You & Your Brothers & Sister with anything you may have needed, But, I am so thankful, I was made to see the light before it was too late, I cherish those days & nights we were able to share each others thoughts, wants & regrets & I am content in knowing that I was able to show You what Happiness, Contentment & Unconditional Love in a Home and Marriage could actually be like & that you were able to experience the courage & dedication it often took to be able to share this joy & Family Values within a Broken Marriage just as You had requested. If not for You, Your relationship with your Daddy would have been severed & Jealousy & hurtful actions would have been the center of Our Home & alot of Memorable Times would not have been experienced. I will always be thankful to Derrall for giving You & Waylon as well as Brandy,Michael & Dewayne the opportunity for Your Daddy to be a Part of yall's growing-up & having the ability to share & watch you being raised to respect your Parents,Elders and The Lord. It took all of us to mold you into a Kind-Hearted, Caring & Loving Daughter as well teaching you to be Independent & Responsible, Hard-Worker and pay your debts with money or a selfless act of kindness to others. I look back and see that I wanted You to be everything that we were not or had not been able to achieve. We were trying to mold you into a Responsible Parent, a Loving & Trusting Wife & a Proud & Appreciative Daughter & Protective Sister. Not knowing,that God had other Plans for Your Sweet Young Life.
I ask the Lord to send back some of those values that we instilled in You and Your Brothers & Sister so that we can learn from them & value their presence in Our Home & Family, Because right now, We are without that security & humble actions of selflessness & we have let the Devil take the place of the ones we lost. So, I went to see one of God's deciples last night to Pray for and annoint Me & Waylon asked that Our Home be Blessed & reject all sinful actions & selfish acts. I Pray that Our Marriage can withstand & endure all evil temptations and Wordly Possessions that try to cause pain & heartache, I rebuke all vulgar language & ungodly actions so that Our Home will A Blessed Home & it's inhabitants will be Servants for the Lord & Uphold His Holy Name. This is the only way, Me & Waylon will be able to Survive the loss of Your Presence,Boog and the absence of your deamanding conditions you always made sure we had as a Family and Extended Family. You were Our Little Saviour & now I Pray for You and Papa Bullard to send Peace, Love & Blessing in Our Home & hearts.
Jessalyn, come see Waylon in His dreams, He looks for You all the time.........